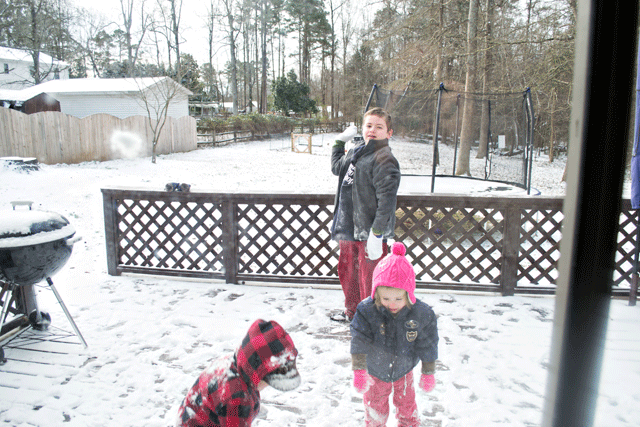 Hello, polar vortex! The cold temperatures finally graced the south for a couple of days, and you can bet that the kids took full advantage of it. I stayed inside, because baby, it was cold! The snow has pretty much completely melted since the temps have risen back to 58 degrees today, but Scout, as it turns out, loves that white powder. He has been belly aching, wanting to play in more snow.
Other than that, Bubba and I took advantage of our new vision insurance and had our eyes checked. I still have 20/20 vision. Booyah!! But, I still need to use my reader glasses when my eyes grow tired & I'm straining. (I'm far sighted, btw.) Maybe there is some truth behind the carrots myth. I eat them all the time.
As for Bubba, he is still blind and has a new prescription to fill. Poor guy…he's deaf and blind! LOL!
Seriously, he can't hear a thing.
And in case you're wondering what is on Scout's face, it's my pink lipstick. He raided my makeup before heading outside…he can be such a little turd. He did it again today, only it was my eye shadow and eyeliner.
How has your week been?